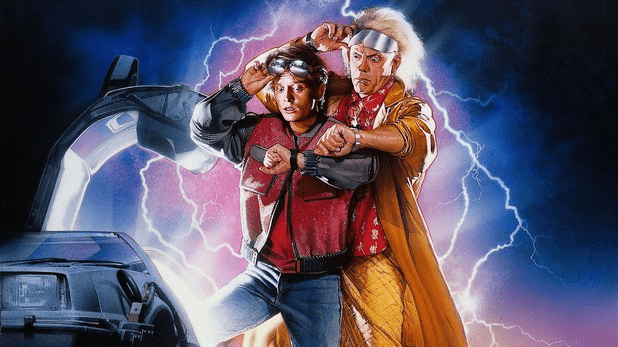 In a one-off, topical blog that could only be posted on this very date, WhichPLM's Mark Harrop discusses the cult classic: Back to the Future II and how accurate the movie's technological predictions actually were. 
Well, it's finally here: Back to the Future Day. The date when Marty McFly and Doc Brown visit the future in the second, Back to the Future movie has finally caught up with us today! And regardless of whether you're a huge fan of the cult films, the franchises' '80s perspective on the future wasn't far off!
So, let's take a closer look at what the movie predicted in comparison with technological developments over the years – most of which have become everyday realities within our personal and professional worlds.
1) Wearable Technology
The concept of wearable technology is something that WhichPLM has reported on for a couple of years. In Back To The Future II, protagonist Marty's children wear headsets at the dinner table to make and receive calls, as well as watch TV.
With the introduction of Google Glass, Oculus Rift and Microsoft's Hololens, virtual reality is here. Those of you who've visited LinkedIn today, may have seen the post I shared, 'Tommy Hilfiger Introduces Virtual Reality Headsets for Shoppers'. Yet another reminder how far we've come.

2) Video Calling
Again in the second movie, Marty liaises with his friend Needles, via video call – something which, at the time of the movie's release, seemed like a futuristic dream! But, today, with FaceTime and Skype, the video call has evolved as an essential part of both home and business life

3) Advanced 3D Video Conferencing
Again, to an '80s audience the concept of 3D video conferencing seemed surreal, but to a 2015 audience, it's a part of our every day lives. We only have to look back one decade, to Teleportec, to see when video conferencing came into fruition!
4) Tablet Devices
When Doc meets Marty by the clock tower in a pivotal scene, he is brandishing what looks like an iPad-style tablet computer. Today, tablets are commonplace, with an estimate of 230+ million units to be sold in 2015. Tablets are used in the fashion industry to support a broad range of mobile business processing.

5) Self-tying Shoes
Marty's self-tying trainers were one of the crazier inventions to feature in Back to the Future II. Now, Nike designer Tinker Hatfield has confirmed that his team are working on a version of the shoes, and hopes to have them ready for sale by the end of 2015.

7) Fingerprint Recognition
Most of us don't use it to get into our house like the movie shows, but fingerprint recognition is now a major part of our business lives; we use our fingerprints to unlock our smartphones, or pay for items at local retail destinations.

8) Power Clothing
Today we have smart materials and clothing that enable the wearer to charge their mobile phones, record temperature, act as heart monitors, even release deodorants based on body temperature.
9) Fax Machines
The movie predicted that the fax machine would be our main source of communication by 2015. With this one, the movie was a little further out.

Faxes appeared and quickly disappeared. And, based on the fact that grading increments were often wrong due to the lack of ink in the fax machines at the receiving end (e.g. 6 centimetres often became 8 centimetres!), I think the fashion industry can breathe a huge sigh of relief that these machines are no longer required.
I remember only too well, in 1985, people would laugh at the thought of coloured graphics being introduced in creative design. Some designers even refused to use new computers to sketch images and pattern markers couldn't understand why colour would be useful on markers. I'll leave you to work out why…
So, as light-hearted a post as this one is, it does beg the question: what will the next 20 years bring?
*Many of the images in this post are not the sole property of WhichPLM, but have been used to illustrate the points made.