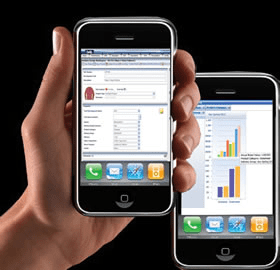 Only a couple of years ago, using PLM solutions on the move would have been one of those futuristic predictions along the lines of Star Trek. Today, it's here and starting to make an impact in the world of product development.
Let's consider just one of the many examples that would benefit from using PLM 'on the move'…
Almost every company associated with the Fashion industry sends designers on 'inspiration trips' or should I say 'comp shopping'. These trips involve designers visiting the fashion capitals of the world such as, Paris, Milan, London and New York, to name just a few. The design teams and buyers, armed with their flexible friend (the corporate credit card), digital camera and note book go on their inspiration shopping trips. These competitive or inspirational shopping trips take on average between one and two weeks and the corporate credit cards really do get flexed almost to breaking point!
Now keep in mind that the product development life cycle is the longest phase and certainly one that we need to condense using new technologies like PLM, supported by mobile devices and technologies. There are many mobile devices on the market today that offer users an high resolution digital camera, telephone and internet access in a single device, just like the iPhone, Blackberry and 4G and Smart Phones, allowing users to access PLM solutions on the move. In a recent PLM Solution Evaluation, I got the opportunity to use an iPhone to access the PLM solution and I am pleased to say it worked perfectly.
So going back to the competitive shopping trip, we will very soon expect to see design and buying teams spotting new products, material or colour trends, and then shoot and upload the images and supporting data directly into their PLM solutions using a Blackberry or iPhone. The benefits are obvious: reduction in the development life-cycle, easier sharing of ideas and comments, allowing the internal development team to begin the development process one or two weeks faster than traditional method, reduction in the amount of physical garments and material that need to be purchased. Other uses of these devices include on-line factory QA/QC inspection, delivering results directly into the PLM solution whilst on the move.
Now you have the perfect reason to own the trendy iPhone!
Contact me
Please free to share your experience in assessing and selecting a PLM solution. Email me at mark@whichplm.com I look forward to your feedback.
Mark
Mark Harrop is a leading Apparel PLM expert with more than 34 years experience in the industry. Mark co-founded the Product Development Partnership Ltd, the team of experts behind WhichPLM.