WhichPLM is delighted to announce that the latest instalment of the industry's only independent PLM Buyer's Guide is now available to download – exclusively as a free PDF!
Since 2011, WhichPLM has been providing our community with an annual publication. During that time, we've covered a lot of ground – from a hyper-focused customer survey in 2011, all the way up to last year's 'PLM Buyer's Guide' – a wide-ranging examination of the fashion technology landscape.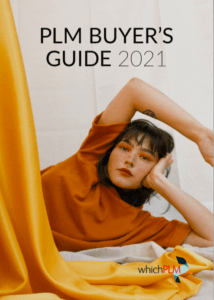 Beginning in 2018, our annual publication became free to download for anyone and everyone as a PDF. And by again making our 2021 PLM Buyer's Guide accessible this year, packing it with actionable intelligence, and promoting it across our expanded channels, we believe our influential, industry-defining market analysis, and participants' profiles and advertisements, will reach the biggest audience in our entire history. We trust it will get into the hands of those who want it most: you.
This year's PLM Buyer's Guide (2021) is packed with exclusive editorial, information on and predictions for the future, and comprehensive PLM vendor and consultant profiles. And for this year, we've analysed the entire PLM landscape to date, giving you unique insight into the composition of the RFA installed PLM base, including breakdowns of tiers, locations, company types, specialties and more.
So, if you're looking for the latest intel on how PLM is transforming the fashion and retail industry in 2021, or considering a PLM project and want to compare the best the industry has to offer, make sure you get your copy, absolutely no strings attached.
Download the PLM Buyer's Guide 2021 here.
If you do wish to keep abreast of industry developments, and want to opt in to receiving content from WhichPLM and our partners in the future, please feel free to sign up for our mailing list below. You can unsubscribe at any time.