Visual Merchandising
There has been an increasing demand for PLM across the fashion industry lately, with many businesses jumping on board to take advantage of the efficiency savings and powerful new ways of working that the right solution can deliver.
These benefits are just the start, however, and an increasing number of companies are not happy to stop there – instead they are looking for improvements, refinements and additional features for their PLM software.
Visual Merchandising (VM) is one such feature that is seeing considerable interest from all over the industry, with new adopters and long-term PLM users keen to see a solution for VM integrated within their existing systems.
So what exactly is VM?
The experience of walking into and browsing a clothes store can be as important as the design of the clothes themselves in influencing customers. There are many companies that go to the trouble of building physical mock-up's of an actual retail store location, stocking the racks with samples, and installing fixtures, decoration and point of sale materials to simulate the look of the final shop. Once completed they invite their store managers to visit the headquarters to see the merchandise in a true lifelike environment to ensure their customers are presented with coordinated ranges that help the overall buying experience which in turn help to create greater profit for the retailer.
This can be a time-consuming process. Getting hold of the right samples in the right colours alone is a logistical nightmare, and that is without the time spent fitting, decorating and waiting for printed materials to be ready, let alone inviting store managers from all over the country and for international operations, this process needs to be duplicated!
The time, cost and limitations have led to the development of VM software.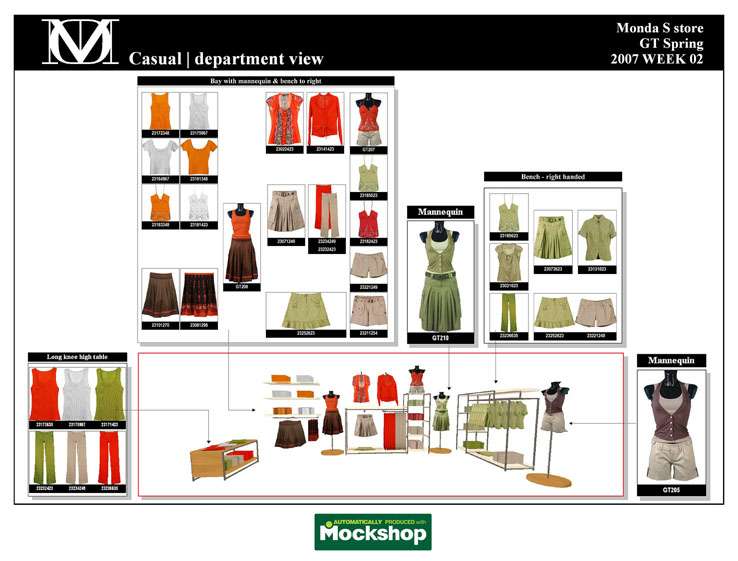 Right now, companies who use VM create designs and graphics (and sometimes import photographs of existing products) using software including Adobe Illustrator, Photoshop and Coral Draw. This process enables the 2D visualisation of garments, shoes, bags and accessories etcetera. This only gets them so far, so the next step in the process is to use a CAD tool to create the 3D models of the store types.  These tools are complicated and require technical expertise to use, meaning that companies have to rely on a CAD (Auto CAD type solutions) specialist to make even the smallest adjustment to their layout or design.
As you can imagine, these companies often complain that the existing VM software solutions are too heavily dependent on CAD, and that they restrict their creativity and add further delays to an already lengthy process.
The market clearly exists for simpler but yet still powerful VM software solutions, designed to be easy to use but boasting the full range of features. Features that will allow companies to create their virtual store layouts, adding fixtures through a drag and drop type interface, and position their products either hanging or folded, on racks, shelves and table tops. These layouts should be easy to render and more importantly, easy to communicate to store managers on a 'just in time' basis.
Any company that is considering investing in VM type software should ensure that the solution is fully compatible with the leading PLM solutions to ensure that the data required to deliver the products and fixtures is held within the PLM libraries to ensure that products themselves can deliver the most up-to-date Bill Of Materials (BOM) and costing to help provide a complete roll up based on the store space available. VM software allows users to experiment with how new ranges are displayed in-store as the seasons change. Rather than waiting to take the samples into a practice store or a retail location, companies will then receive valuable, instant feedback about which of their products work. VM solutions will enable the visual merchandising teams to experiment in ways that have not been available to them in the past and to ensure that the chosen merchandise is the most suitable to make it to the shelves.
The integration of the VM process into PLM will enable more efficient and effective use of the overall visual merchandising process including: Tracking of lines, Products and Material (BOM's) Packing, Costing, Version Control, Revision history and inclusion of on Trend Styles.
There are now several PLM solutions on the market that have recently started to offer both 3D virtual apparel based sampling (garments and footwear) and several more that have made the next step in delivering VM In-Store design solutions linked back to the PLM libraries.
Today there are several companies on the market including at least one PLM supplier offering VM solutions. One such company based in the UK and worth investigating is Mock Shop, who kindly supplied the images to accompany this blog.
Please feel free to contact me to gain more information on companies that are making the first moves on integrating VM into the product development process.

Mark Harrop07 October, 2010
Contact me
mark.harrop@pdplimited.com I look forward to your feedback.
Mark Harrop is a leading Apparel PLM expert with more than 34 years experience in the industry. Mark co-founded the Product Development Partnership Ltd, the team of experts behind WhichPLM.